T3Pack-Press - Web Application
Advanced Studies of Lifestyle Management for Professionals. "Inspire to Share"
Services:
Design
HTML/CSS
Content Creation
Backend
WordPress
Security
SEO
Performance
Maintenance
Editor Training
in the Cloud
Server Management/Hosting
Social Media Management
Facebook Page
Twitter Page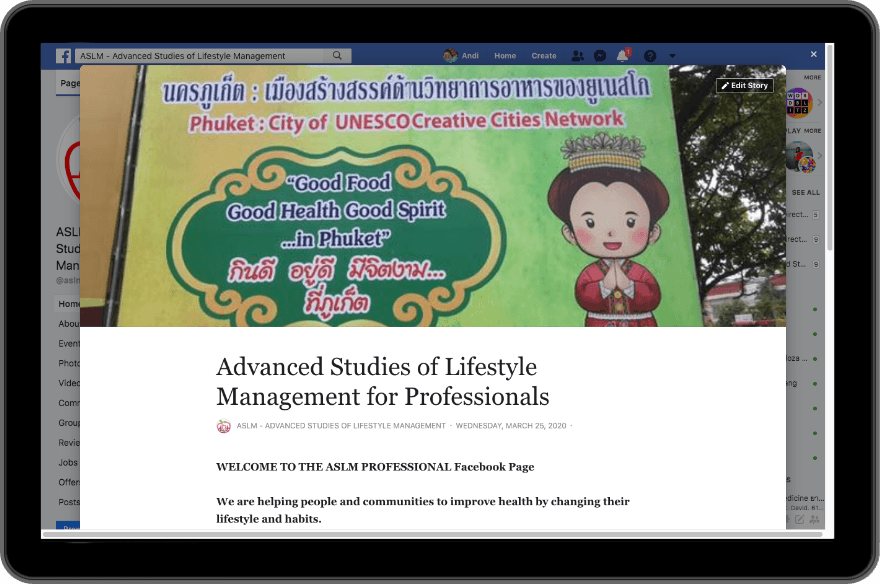 Description
WELCOME TO THE ASLM PROFESSIONAL Facebook Page We are helping people and communities to improve health by changing their lifestyle and habits. Good Health, Good Food, Good Spirit. Phuket's Motto since it has been honored by UNESCO Creative City's Network in 2015. Phuket's focus is on improving Public Health and building the Island as a Medical and health, Wellness Hub for all Asian Pacific region. Within 6-7 hours you can reach Phuket's International Airport from nearly any place in Asia and even parts of Australia with direct flights. Phuket is an ideal place for Education and of course for Health and Wellness Tourism. On the Advanced Studies of Lifestyle Management for Professional Page we focus on researches and articles about Lifestyle Medicine, Lifestyle Management and related fields which might be relevant for professionals working in the medical and educational field a.o. which includes also the health and wellness sector. Come to Phuket and join our effort as an expert or as a potential client, organization, or even startup. The Board of Investment of Thailand is offering great incentives for everybody who likes to start doing business here. Hope to see and meet you soon in Phuket!