T3Pack-Press - Web Application
Combining Lifestyle Medicine, Environmental and Peace Education, Sufficiency Economy Philosophy, and All-Inclusive Education for All with the Montessori Approach. "Inspire to Share"
Services:
Design
HTML/CSS
Content Creation
Backend
WordPress
Security
SEO
Performance
Maintenance
Editor Training
in the Cloud
Server Management/Hosting
Social Media Management
Facebook Page
Twitter Page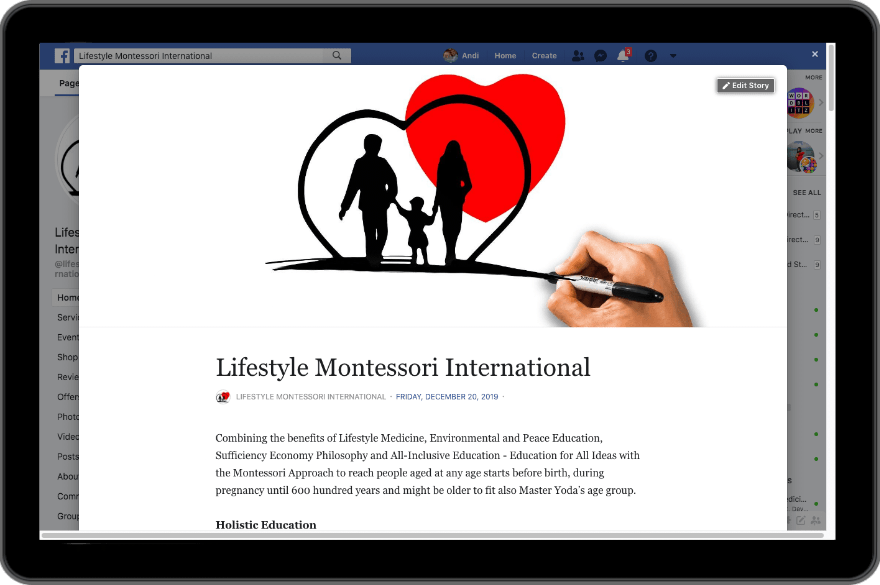 Description:
We developed this Website based on T3Pack-Press running its latest stable core.
Lifestyle Montessori International
Combining the benefits of Lifestyle Medicine, Environmental and Peace Education, Sufficiency Economy Philosophy and All-Inclusive Education – Education for All Ideas with the Montessori Approach to reach people aged at any age starts before birth, during pregnancy until 600 hundred years and might be older to fit also Master Yoda's age group.
Holistic Education
We love the holistic approach which started in 1987 with the idea to build up a center for families and newly "created families" including several generations. A Place where people aged 0 – over 100 find their place in a new, fresh, each other supporting and active community.
In our modern society families in a traditional sense are often no more existing. Many problems which got solved in the old days by talking to and advice from older family members and generations nowadays need to get a completely new family setting. Patchwork families need patchwork generation settings. In April 1987 the Tschernobyl Nuclear Plant exploded and so it was also necessary to have a completely different approach to our environment too. With the Montessori Approach, we found an Educational Methode which was suitable and actually made for exactly that purpose.
Familien Treff – Family Meeting Point
So in May 1987, Familientreff Gerlingen got initiated by Andi Becker in an empty 8×8 meter schoolroom on the second floor of a school building. (https://familientreff-gerlingen.de) As his son Benjamin was just getting 2 years old the admission age was set to 2 years. An idea was born – A Montessori Kinderhaus with flexible opening hours. But as there were so many interested people who also had kids much younger or older than that many more groups grew pretty fast. After 2 months we had several toddler groups, our homework after school group expanded to 5 different locations in Andi's hometown and an evening program was made for adults which included Montessori materials building as well as lessons about how to educate, feed, design a child surrounding, discipline issues, and so much more. Elderly people from nearby elderly home support with their presence the homework activities for students of all ages this small Parent run club provided. Now 32 years later and after being honored as 4th best parent initiative in whole Germany in 1989 by the Minister of Family, Woman and Children Ursula Lehr, it is a well-known institution in Gerlingen running a complete Family Center.
Asia the Center of a New Educational Revolution
While Andi meanwhile moved to other cities (Schwetzingen and Deidesheim in Germany) where he started similar "Familientreff Initiatives", he is now working in Phuket, Thailand since 2004, where he had been asked to be the Educational Director of a Montessori School. But he quitted that excellent position to have much more time to help many more rural schools in Khao Lak and all over Thailand after the Tsunami devastated the Khao Lak and western Phuket area.
All-Inclusive Education – Education for All
In 2004 he had been invited by the Director of UNESCO Bangkok Sheldon Schaeffer to participate at the Regional Workshop of All-Inclusive Education in Bangkok (https://unesdoc.unesco.org/ark:/48223/pf0000139563 page 120).
During that time it was getting more and more obvious that Montessori alone won't be able to make all the changes needed in Thailand, Asia, and actually in the World. There were too many environmental issues, the gap between the poor and the rich in Asia is tremendously huge and health issues and especially also environmental issues arise nearly everywhere.
Already when Andi was building up Familien Treff Gerlingen more than 30 years ago he introduced a whole vegan food concept to the kids and families – mostly because it was much cheaper than other food and also because of a whole plant-based food can be prepared easily by the kids themselves. 30 years later he learned more about Lifestyle Medicine. Many of its Lifestyle Montessori ideas he had been doing without knowing that it was part of Lifestyle Medicine (https://lifestyle-medicine.asia) and that this was very beneficial for the health of everybody using this approach too. The Montessori Approach and the fact to use it also with elderly people matched simply the same interests and goals.
Familien Treff Gerlingen also started with a focus on environmental education back in 1987 already and all kids went outing the woods every day for at least 1-2 hours, sometimes, even more, walking up to Solitude castle – a wall through a larger forest area about 5 km and uphill about 250m difference in elevation. No matter what weather it was, only the clothing could have been wrong, and the 30 kids aged 2-6 (2 handicapped) enjoyed it all the time.
Sufficiency Economy Philosophy (Late King of Thailand Bhumibol)
Living and Working in Thailand and never-ending lifelong learning brought Andi to discover much more about the Sufficiency Economy Philosophy which gets attributed to the late King Bhumibol Adulyadej. (https://www.unescap.org/sites/default/files/apdj-17-1-5-Mongsawad.pdf)
From 1935 to 1945 he went to the Ecole Nouvelle de la Suisse Romand (ENSR https://ensr.ch – "Scolarité complète de la Maternelle (avec une section Montessori) au Gymnase"). Andi worked before in Montessori Schools and knows therefore that students who went to a school where teachers taught them with a Montessori or Montessori like the idea and child-centered attitude in a well-prepared learning surrounding will create leaders of tomorrows world.
When we read about the Montessori "Giants" (http://www.mslf.org/famous-montessori-students/) like Larry Page and Sergey Brin (Google Founders), Jimmy Wales (Wikipedia founder), Jeff Bezos (Amazon Founder), and many others who went through a Montessori Education, we probably would also see the brilliance of the Sufficiency Economy Philosophy, as well as the "patent to make rain" as one part of this global movement which started at the beginning of last century when Montessori went to the western USA and Alexander Graham Bell (https://en.wikipedia.org/wiki/Alexander_Graham_Bell), was one of the early great supporters of the Montessori method as well as Thomas Alva Edison
(https://www.montessorieducation.com/blog/thomas-edison-montessori-education). It was also the time when the Late Kings mother was visiting the USA – a fascinating time at the beginning of the Industrial Age which just started and where the way how to educate kids and prepare them for the future got changed by educators like Maria Montessori, Peter Petersen, and many others which followed a much more child-centered way.
The SEP has its parallels with what Lifestyle Montessori likes to achieve worldwide. It builds up a strong base on which future developments can be built and it also fits the UNESCO idea for an All-Inclusive Education to achieve a sustainable development for whole nations, which again will result in much less inequality which is often the reason for conflicts and problems. It is the path to a global peace like Maria Montessori described also in her book Peace and Education. (http://www.thebarefootmommy.com/2017/10/peace-education-montessori/)
"Be the Change you want to see in the world" (Mahatma Gandhi)
To help to solve the problems in most Asian countries the way Education takes place has to be changed. Environmental issues are often caused by the fact that over decades no awareness has been created about the problematic and deadly effects on polluting our seas, plasticize our life in a throw-away mentality and now even the damaging effects of smartphones and social media for our new generations, … Lifestyle Montessori will demonstrate that it is possible to make a change and to really BE the change, getting people to support the change and of course creating much wider awareness about issues caused by a wrong Lifestyle which damages not only our environment but also especially our health and the way we communicate, socialize with others. Lifestyle Montessori will teach its students of all ages to respect others, including the environment. It will provide know-how in how to lie a much healthier lifestyle following the Montessori Principle "Help to do it by myself".
Lifestyle Montessori is reaching out to the world by building up Learning Materials and Resources for any age level, targeting those "Lifestyle" issues.
Be a Part of a Bigger Change and Make it Happen!
Join and follow Lifestyle Montessori International
Short Summary:
Lifestyle Montessori is for all ages.
Lifestyle Montessori helps to create awareness by mothers and fathers already during pregnancies.
Lifestyle Montessori helps kids of all ages to eat themselves "healthy" and exercise a lot without
swiping fingers over smart device screens.
Lifestyle Montessori promotes the Earth Child Plan by Maria Montessori and will utilize it to build up a healthy Learning Environment.
Lifestyle Montessori will educate parents and adults to take much more care of their own health and by doing that giving also a great example to their children and friends.
Lifestyle Montessori will help in any profession and circumstances of modern society.
Lifestyle Montessori is the best way to help with issues like Dementia, Alzheimer's, Diabetes, and other NCD's which occurs not only to elderly people.
Lifestyle Montessori will change your life, if you participate in this global movement for a better, healthier, more active, but also much more peaceful world.
Good Food
Good Health
Good Spirit
Good Environment
Good Education
Good Generations
Good People
Good Nations
by being the change you want to see in the world!
Check out all our other activities here: https://ilf.asia (International Lifestyle Fund)