T3Pack-Press - Web Application
Phuket Proms – inspiring creativity. All-inclusive music education for all. "Inspire to Share"
Services:
Design
HTML/CSS
Content Creation
Backend
WordPress
Security
SEO
Performance
Maintenance
Editor Training
in the Cloud
Server Management/Hosting
Social Media Management
Facebook Page
Twitter Page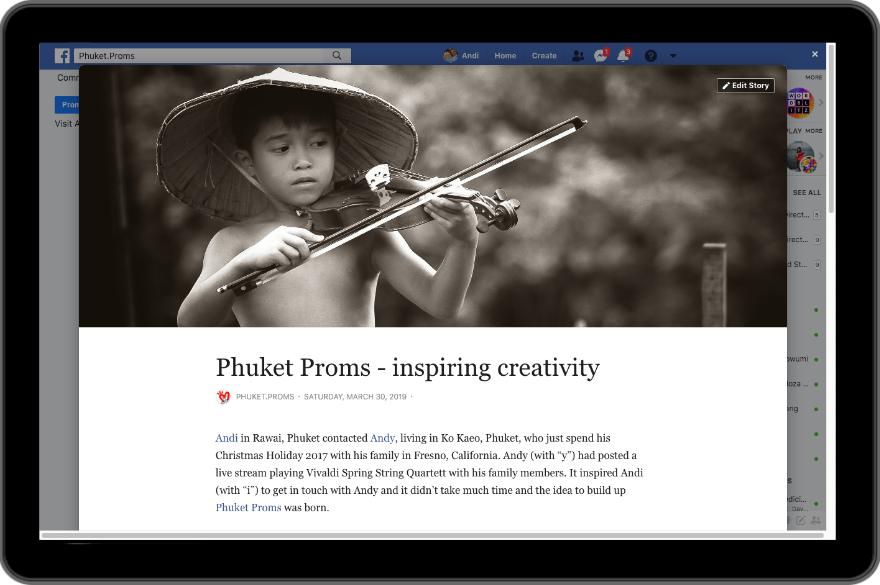 Description:
Andi in Rawai, Phuket contacted Andy, living in Ko Kaeo, Phuket, who just spend his Christmas Holiday 2017 with his family in Fresno, California. Andy (with "y") had posted a live stream playing Vivaldi Spring String Quartett with his family members. It inspired Andi (with "i") to get in touch with Andy and it didn't take much time and the idea to build up Phuket Proms was born. PHUKET PROMS will focus on bringing musicians from Phuket and the world who like to play classical and traditional acoustic instruments together with other musicians, form an orchestra as well as smaller ensembles which meet and practice on a regular base in Phuket and who will perform in a concert series throughout the year on Phuket Island and …. OUR PHUKET PROMS MEETING For our first meetings in Phuket, we like to welcome musicians who can read classical music like Pachabel's canon, Handel's water music, Bach Chorale, and play the violin, viola, cello. We will step by step extend the range of musicians but we really like to hear from you already if i.e. you play Contra Bass, Oboe, Fagott, Flute Traverse, Harp, … in short all kind of instruments needed for a classical orchestra of volunteers which we like to build in Phuket to have fun together and to bring classical music to the people living in Phuket. We welcome also traditional instrument players which could bring a "Phuket Flavor" to our musical ideas. Out of that group we like to form several smaller ensembles that can practice at their own pace to be able to create enough material for a concert series throughout the year on Phuket island. If you know from other schools, organizations that already do similar things feel free to contact us, so we can cooperate and have a joint effort bringing classical and traditional acoustic music to the hearts and ears of people with the PHUKET PROMS. Our major practice meetings will be held on Sundays, 4 pm – 6 pm (16:00 – 18:00) Locations and practice times may vary depending on the participants in an ensemble. IDEAS ARE WELCOME Free violin lesson of about every Monday 18:30 – 20:00. Contact us! Violin play during church service at Seventh Day Adventist International Church (Thepamnuay Wittaya School) Interested in playing Guitar, Ukulele, Cajon, Piano, etc. Contact us! Willing to help with providing lessons to underprivileged kids – Volunteers are very welcome! Please let us know if you can help or provide instruments for the students.