T3Pack-Press - Web Application
The social platform for local and international schools, teachers, students, parents, home-schoolers from Phuket and its surrounding areas. "Inspire to Share"
Services:
Design
HTML/CSS
Content Creation
Backend
WordPress
Security
SEO
Performance
Maintenance
Editor Training
in the Cloud
Server Management/Hosting
Social Media Management
Facebook Page
Twitter Page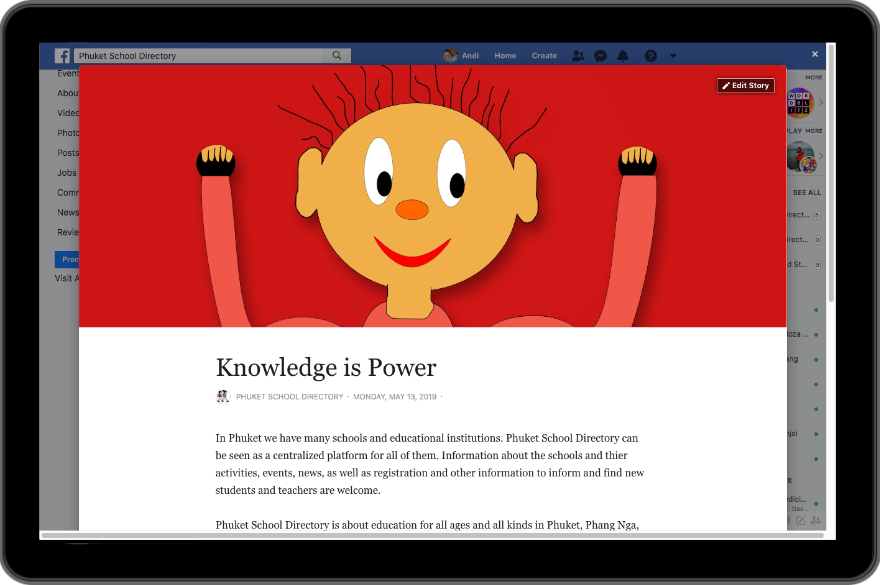 Description
In Phuket, we have many schools and educational institutions. Phuket School Directory can be seen as a centralized platform for all of them. Information about the schools and their activities, events, news, as well as registration and other information to inform and find new students and teachers are welcome.
Phuket School Directory is about education for all ages and all kinds in Phuket, Phang Nga, Krabi, and Andaman Region. No more long searching on the net when you can find a suitable school for your kid, a qualified teacher for your school, supporters for activities, or if you like to invite others to your school events. Phuket School Directory will have its own website – https://phuket.school which currently directs to this Facebook page.
In the future, we will provide a directory of all schools and educational institutions and related enterprises. Every school will be able to set up their own phuket.school/yourschoolname – sub-website, which can either direct 301 to your own website or can function as your own website. All sub-websites will be listed in its own Listing on the Home page. Besides that, a Directory with possibilities to book appointments, manage events and sell products of your school will be available including a "Wall" like feature for regular news updates, which then get featured as posts on our phuket.school.directory Facebook Page.
For further information feel free to contact us. Thanks!