T3Pack-Press - Web Application
The Christian social platform for Churches and Christian businesses and its Christian Community. "Inspire to Share"
Services:
Design
HTML/CSS
Content Creation
Backend
WordPress
Security
SEO
Performance
Maintenance
Editor Training
in the Cloud
Server Management/Hosting
Social Media Management
Facebook Page
Twitter Page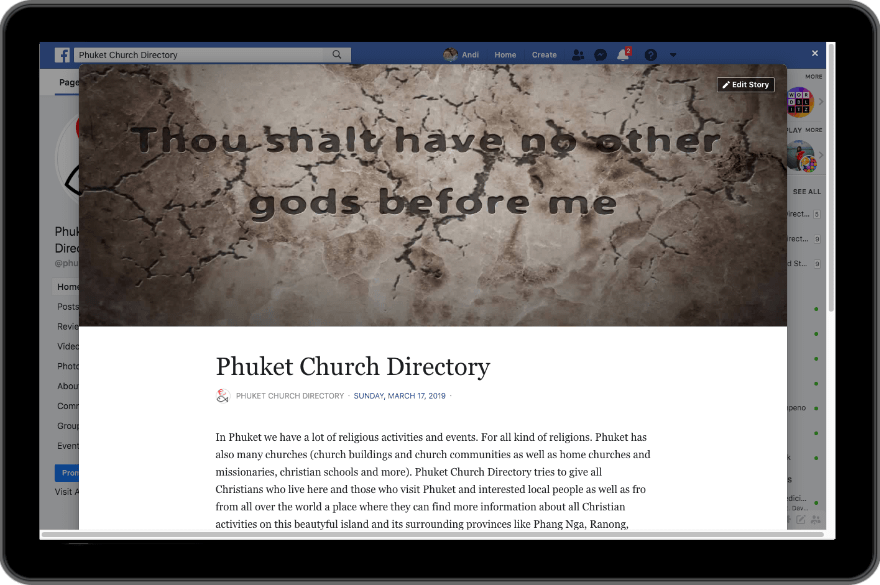 Description
In Phuket, we have a lot of religious activities and events. For all kinds of religions. Phuket has also many churches (church buildings and church communities as well as home churches and missionaries, Christian schools, and more). Phuket Church Directory tries to give all Christians who live here and those who visit Phuket and interested local people as well as fro from all over the world a place where they can find more information about all Christian activities on this beautiful island and its surrounding provinces like Phang Nga, Ranong, Krabi, Trang, Satun.
Phuket Church Directory is a place for a Christian church (community) like it is written in acts. We don't differentiate between different denominations as we all pray to one God! Let's join together and we invite you to let us know when you have events in your community, when and where your worship services will take place as well as additional information about care groups, senior citizens, youth, men, women, etc. groups.
Let's transform Phuket to one Christian Community!
God bless you!
Announcement: We are in process to publish our website soon and then any Christian activity can have their own spot and place to reach out to the world promoting a Christian Life Style in the name of the Lord.